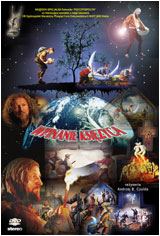 It is a film about Dariusz Milinski, about whom journalists and critics express their opinions using such words as: 'an amazing, rebellious, charismatic artist, painter, poet, actor, animateur, provocateur and probably a philosopher'. No standard biographical note is able to render the meanders of the life and the rich personality of the artist, born in Cieplice in 1957. It will not show the dimensions of cultural terrain covered by Miliński in his artistic wanderings. His works are compared with the paintings of Bosch and Bruegel, linked with famous names of Polish contemporary art.
Unnecessarily - as Miliński is incomparable. In contrast to creators rooted in a specific part of "space-time", Dariusz Milinski was an outlaw, an outsider, "a star" and a madman depending which worlds he inhabited, roamed, dropped in or lounged about satiated. He constantly balanced between types of culture, sometimes also between artistic conventions, searching for his identity in the hybrid-like, often discontinuous process of creation. However, Milinski is always a master of visual metaphor, using his incredible imagination to create an iconosphere to contrast with pushy everyday reality.
In this "nutty" world the only way for an artist to exist is to turn to art as part of his being – like "beautiful food" which makes it possible to survive and save oneself, one's family, friends, the impoverished, oversensitive and sufferers. Milinski founded a group "Plawna 9", which, like a troupe of medieval 'goliards', presents in its shows a shamefully hidden fact of a fool triumphing over a wise man; fills the audience with longing for the transparency and definiteness of the past, for the naturalness of aiding the needy and the right of each man to be weak.
Andrzej Czulda made a masterly movie. The film visualises the fact that also our world consists of two orders, mythological- magical and rational, which co-exist and sometimes overlap. The film about good-bad feelings, a cool-warm sky, puppets turned human and beautiful-ugly people pinning up moons, suns and sometimes hearts. It is also about art that is a metaphor of human fate. It seems one can describe the sense and philosophy of life using pensive and fragile images, unexpected boorishness of a context, playful jokes and the seriousness of formalistic pompousness. One can.
DIRECTED BY
ANDRZEJ B.CZULDA
WRITTEN
ANDRZEJ B.CZULDA, KRYSTYNA PIATKOWSKA
DIRECTOR OF PHOTOGRAPHY
ROMAN PIOTROWSKI
SOUND
BOGUMILA KLOPOTOWSKA
MUSIC
AGIM DŻELJILJI
EDITING
ZBIGNIEW NICINSKI
PRODUCTION MANAGER
JOANNA LEPIANKA
CAST:
DARIUSZ MILINSKI, Grupa Plastyczno-Teatralna PŁAWNA 9,
GRZEGORZ SZYMCZYK, MICHAL BAJSAROWICZ, KRZYSZTOF CYMON, ELWIRA LASKOWSKA, MALGORZATA LEMISZEWSKA, MARZENA MILINSKA, FILIP MILINSKI, IGOR MILINSKI, KACPER MILINSKI, MAKSYMILIAN MILINSKI, ZBIGNIEW ROSZKOWSKI, JOANNA SERENDA, MICHAL STASZKOWIAN, LESZEK WISNIEWSKI, ROZA WOJCIK, STANISLAW BOROWSKI
PRODUCTION
EDUCATIONAL FILM STUDIO IN LODZ
POLISH TELEVISION INC. TV POLONIA
© 2001 WFOiPE – TVP S.A. TV POLONIA ZAiKS